The Gardner Webb team
Experienced | Skilled | Approachable
We're not just well-known for accountancy expertise. (We have to be honest here) Our clients love us also because we're a great bunch of people! We're a genuine team in every sense. We work together with a sole focus – to support you and your business. We're diligent, persistent and sometimes quite ruthless, in our determination to make your business a success.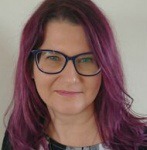 Edit Gardner
In 2003 left the corporate world behind her and set up Gardner Webb Accounting. Her corporate background served her well over the years - enabling her to approach client issues in an analytical way - giving practical advice that has a measurable impact on her clients' businesses.
She is also one of those rare breeds who likes all things tax and is a chartered tax advisor.
She is your first point of contact for any tax matters and business advisory matters, such as profit improvement, budgeting, forecasting, training, systems consultancy, performance standard setting, etc.
Edit holds a degree, is a member of the Chartered Institute of Taxation, a fellow member of the AAT and a member of the ATT.
Edit is married, has a grown son and two (very naughty) cats. She loves Greek food.
E: edit@gwaccounting.co.uk
Claire Webb
Claire trained and worked in an accountancy practice for eight years before being headhunted to take on commercial roles. After 14 years heading up finance teams, Claire has returned to her first love, practice. She is responsible for co-ordinating all your service requirements and is personally responsible for all your compliance matters, such as tax returns, accounts, VAT returns, payroll, etc. Claire is well known for running a happy, but tight ship whilst complying with the numerous different pieces of legislation and achieving all your critical deadlines.
Claire is a fellow member of the Association of Chartered Certified Accountants and a member of the AAT.
Claire is married with a young son and spends her spare time with her family. She loves Italian food and is a traditional gin and tonic girl.
E: claire@gwaccounting.co.uk
Are you looking for an accountant who's on the ball and responsive - one who will save you both money and time? Get in touch. You'll be pleased you did.
Tel - 01604 642727 or 01933 754050
Email - info@gwaccounting.co.uk